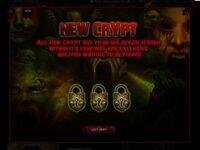 The Crypt grants players free Abilities or Minions as a reward for returning several days in a row. Each consecutive day unlocks 1 lock, and failing to return the next day relocks 1 lock. A new lock can be opened between 24-48 hours after the previous one. Once all the 5 rewards are unlocked there is nothing else to gain. Akem's Manah's treasure has been changed at least twice, possibly more.
Unlock the keys to hidden treasures if you show your devotion to Akem. Come back daily to unlock the next key needed for your Chest.
Treasure Available
These treasures were available from August 14th 2009. [1]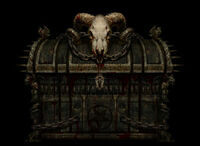 It took 25 consecutive days to unlock.

These treasures were available from April 10th 2012.
It takes 28 consecutive days to unlock.
Backstory
Below the city, in an ancient crypt, you find a chest of wood and bone. Occult symbols glow faintly on the wood.

As you gaze at the box, a voice echoes inside your head: "I am Akem Manah, the demon of evil purpose. After centuries of watching the humans on this planet grow, struggle, and die, I have grown bored. I am tired of watching humans with their feeble mortal limitations. I wish to see the evolution of the world's strongest vampire.Grow in power. Return here every day so I may view your progress, and I shall reward you.
The demon of evil purpose, Akem-Manah, resides in a Crypt below the city streets. Here he will grant you treasure in exchange for returning to the app once a day. Beneath each chest is a number of locks that must be undone in order to gain the treasure. Each lock represents one day in which you must return to Vampires. Note that these locks must be unlocked consecutively - if you do not visit the app within 24 hours of unlocking a lock, ONE of your locks will be reset. Once all the locks are gone, you may click on the open chest to receive your reward. Another chest will appear if you have more to unlock.
After this there is nothingness.
Image Gallery
Ad blocker interference detected!
Wikia is a free-to-use site that makes money from advertising. We have a modified experience for viewers using ad blockers

Wikia is not accessible if you've made further modifications. Remove the custom ad blocker rule(s) and the page will load as expected.