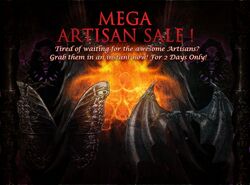 The Mega Artisan Sale was a 48-hour Sale that took place between Saturday June 16th - Sunday June 17th 2012. The majority of the sale revolved around Artisans sold at discount prices.
Mega Artisan Abilities
One new Ability could be purchased from the Elders only during the sale.
Epic Endurance could be purchased for 95  between June 16th - June 17th 2012.
Artisan Sale

Every fours hours 1 new Artisan item would appear, replacing the previous Artisan item. Each Artisan item appeared only once and cost 60 
.
All times in Eastern Standard Time
Back Story
Tired of waiting for the awesome Artisans? Grab them in an instant now! For 2 Days Only!
Ad blocker interference detected!
Wikia is a free-to-use site that makes money from advertising. We have a modified experience for viewers using ad blockers

Wikia is not accessible if you've made further modifications. Remove the custom ad blocker rule(s) and the page will load as expected.