The Red Friday Sale (December) was a 24-hour event on Friday December 3rd 2010. The majority of the sale revolved around Limited Edition, Event, retired Gift, and Mission Abilities sold at discount prices for Favor Points. There were also 4 new Abilities on sale, 5 new Blood God Gamble Abilities, 3 new Lion Familiars, and a new Red Tech Avatar set, all of which were only available during the sale.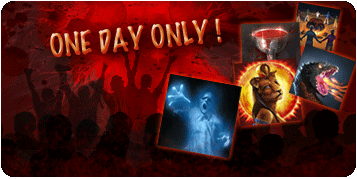 Red Friday Abilities
Four new Abilities were available only during the sale.
One Day Only Ability Sale
These Abilities were available all day, purchased individually or in a set of 3.
Bundle Sale
The bundles were only available later during the sale. Every three hours, 2 new Bundles would be on sale, replacing the previous 2 Bundles. It should be noted that these bundles are almost identical to the ones used in the last sale.
Set
Abilities
Time
Set Cost
Offensive Bundle
Blood Manipulation, Malevolent Fury, Necrotize, Sense Life, Venomous Bite
5.30pm - 8.30pm
100 FP
Defensive Bundle
Amplify Fear, Gaslight, Resist Fire, Serendipity, Technomancy
100 FP
Movement Bundle
Black Cat Form, Control Spider Swarm, Create Chaos, Hail Hades' Chariot, Superhuman Tracking
8.30pm - 11.30pm
100 FP
Red Friday Special
Charm, Persuasion, Psychotic Bloodlust, Sense Aura, Summon Succubus
100 FP
Red Friday Bundle 5
Charisma, Fatal Lullaby, Persuasion, Phoenix's Flame, Siren's Call
11.30 - 3am
100 FP
Red Friday Bundle 6
Control Bat Colony, Gaslight, Hail Hades' Chariot, Venomous Bite, Zombify
100 FP
Lightning Sale
Every hour 1 new LE or Event Ability would be on sale for 60 minutes, replacing the last Ability. There was also clues for the next ability such as Ability Type, Attack, and Defense.
* This is the only Mission Ability that was on sale.
All times in Eastern Timezone
Gamble Abilities
See: Blood God
Lion Familiars
See: Familiars
Crimson Tech Avatar Set
See: Avatar
Other Events
The Tokyo Event reopened for the 24-hour sale.
Gallery

See also: Red Friday Sale (August)
Ad blocker interference detected!
Wikia is a free-to-use site that makes money from advertising. We have a modified experience for viewers using ad blockers

Wikia is not accessible if you've made further modifications. Remove the custom ad blocker rule(s) and the page will load as expected.